A Termites New Year's Celebration never stops!  This is why, they cause so much fear and anxiety in so many California property owners.
Termites have one, lifelong imperative; survive and increase the colony.  California's exceptional climate means that there is no true "Termite Season".  Here termites can eat 24/7, 365 days a year, for centuries on end without interruption.


In California's forests, woodlands, and deserts termites feed on dead and dying trees, tree stumps, grasses, bushes, or other pieces of dead or decaying wood. Termites can be highly beneficial as they break down woody debris, return nutrients to the soil, and provide an energy-rich food source to a multitude of predators. Fortunately, or unfortunately, these same areas have been plowed under and built over to make way for human habitation.
Home building has risen by necessity and these wood laden structures have become the alternative food source of the termite.  Technically, termites don't know the difference between a tree and a million-dollar house.  What they know is, dinner is served!
California's most destructive termite pests include the subterranean, drywood and dampwood species.
Subterranean and drywood termites and dampwood termites to a lesser degree, are well-known for damaging homes and combined with all the lesser-known species, they are responsible for millions of dollars in damage each year.



How do I know if I have termites? Good question! Here are some things to look out for.
Swarmers or discarded wings: Swarmers or reproductives, are the young female and male winged termites.  They emerge from a colony to mate and search for a new location to start a colony, which typically includes our homes.  Termite swarmers or their discarded wings near windowsills and doors are often the first visible signs of a termite problem.
Mud Tubes: Subterranean termites, a most destructive termite species, build mud tubes to provide moisture while they travel between their colony and food source. These tubes are usually found near a home's (structure's) foundation.
Wood Damage: Termites eat wood from the inside out. So, wood that sounds hollow when tapped, or areas of blistering wood usually signifies termite infestation.
Uneven or bubbled paint: This can mean one of two things, water damage or termites.
Frass: Small piles of wood-colored pellets inside or outside the home (structure), are a sign of drywood termite infestation. Drywood termites produce these pellets as they eat through wood.
If you suspect termites are in your home, or other structure, contact a licensed pest professional whose expertise and technology can best get rid of the termites and prevent future infestations.
In Southern California, Corky's Pest Control can provide proven termite solutions.  Satellite technology has made it possible to quote prices for fumigation (tent and no-tent options) and other forms of termite extermination, right over the phone.  A state mandated inspection will need to be performed to confirm the absence or presence of termites before any contracts are signed or work is commenced. Termite protection services are also available and include regular termite inspections to stop infestations before they get out of hand.
It's tim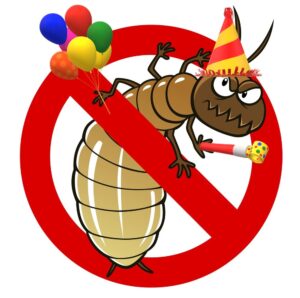 e to stop the "Party"!