TERMITE CONTROL SERVICE​​
Call for a Free Instant Quote.
THE PRICE WE QUOTE WILL BE THE PRICE YOU RECEIVE!
TERMITE CONTROL SERVICES​​
Corky's offers a wide variety of termite solutions for both residential and commercial properties.
Get a Termite Control Quote
How much does a termite treatment cost? Corky's provides free instant quotes over the phone for tenting and no-tenting methods to exterminate termites.
Termite Treatments
Watch this video on which termite treatment is the best for you- fumigation, radar, heat, local and subterranean.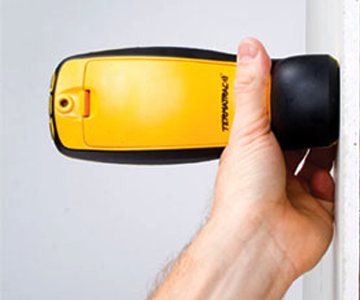 No Tent Termite Solutions
Corky's offers many options including no move out treatments and fumigation in San Diego, Los Angeles, Riverside and San Bernardino.
CORKY'S KNOWS HOW TO GET RID OF TERMITES, FAST!
PROVIDING THE BEST PEST CONTROL SERVICE SINCE 1967.
TERMITE TENTING & NO-TENTING TREATMENT SERVICE VIDEOS
TERMITE SPOT TREATMENT
Spot treatments are a convenient way to get rid of small termite infested areas.
TERMITE RADAR TREATMENT
Radar detection of termites is a great no-tent and no-moving out solution to eliminate termites.
TERMITE HEAT TREATMENT
Termite heat treatments are a non-chemical regional solution perfect for attics, individual condos and apartment units.
TERMITE FUMIGATION
Termite fumigation is a whole house tenting solution that exterminates termites 100% in your home.
SUBTERRANEAN TERMITE TREATMENT
Subterranean termite treatment is a soil treatment that provides an extremely effective long-lasting solution for the extermination of termites that come up from the ground.
WHAT GOES ON INSIDE A FUMIGATION TENT
Watch this informative video on tenting to exterminate termites.
TERMITE INSPECTION
Corky's provides quality termite inspections with photos. Termite inspections are free when work is performed by us.
TERMITE PROTECTION PLAN
Corky's Annual Termite Control monitors your property year-round.
TERMITE CONTROL
4-YEAR GUARANTEE
If termites re-infest an area that we have previously exterminated, we will re-treat that area, free of charge, for up to four years from the date of our original termite control treatment. Any ancillary expenses will be covered by the homeowner. Termite Control Guarantee is not transferable to a new home owner.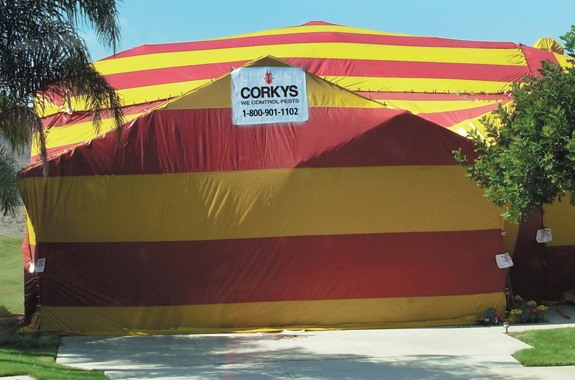 Termite Treatment Solutions
Corkys' has many termite control treatments. Call us for a free quote over the phone.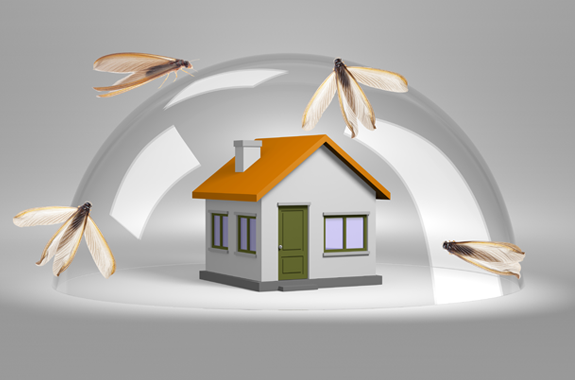 Termite Protection
Defend your home with Corky's year-round protection plan against drywood and subterranean termites.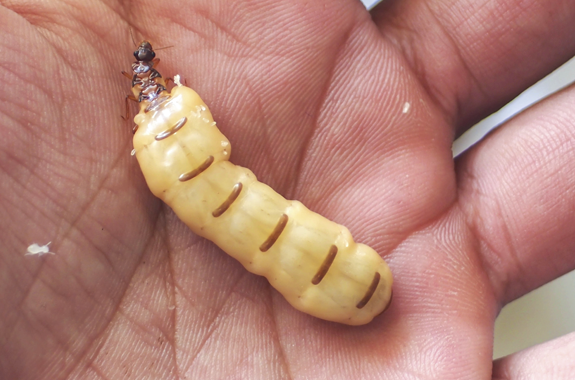 Termite Identification
What does a termite look like? Is it a termite or a flying ant?