HOW
CORKY'S

BECAME A PEST CONTROL INDUSTRY LEADER
Corky Mizer
Original Founder
Pledge
My accomplished mission in my business life has been to programmatically approach Pest Control in Urban Southern California households. This business module has allowed me to provide an industry leading guarantee on nearly all household pests. Bed Bugs and Termites have their own special guarantees. We will refund the price of the last service for any customer if a service issue cannot be resolved amicably. It's that simple!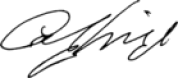 PIONEERING THE PEST CONTROL INDUSTRY
Established in 1967, Corky's Pest Control is one of the leading pest control providers in Southern California. Every day, technology and science drive us to new control efficiencies and levels of environmental safety allowing us to lead the way and provide the best pest control services available to more than 30,000 customers. Our company has many services from monthly pest control to specialized gopher control for both residential and commercial customers. Our dedicated and innovative staff are the best-trained in the business. Our Mission, Values and Vision reinforce why we do what we do every day, all year long.​
Company
Values
Have fun
Inform and educate
Assess, rethink, and improve
Build and maintain solid customer relations
Constantly strive for the best solutions
Company
Mission
To perfect, develop and sustain the best quality and service treatment for both residential and commercial pest control applications.
Our
Vision
To provide safe, effective, professional pest control that improves our comfort and quality of life.
Our History
Corky's Pest Control has been providing quality pest control services in California for more than 50 years. We specialize in the use of green products—both botanical and low-impact, using only the best on the market. Our highly-trained personnel assure customer satisfaction, and they will take care of problems ranging from ants, spiders, cockroaches, bed bugs, West Nile virus-carrying mosquitoes to rodents such as mice, rats, and gophers. The termite department is state-of-the-art, offering many solutions including radar detection, fumigation, spot treatments, and Thermapureheat hot air heat services.
Founder Corky Mizer's experience, knowledge and dedication have resulted in one of the most successful pest control companies in the industry. For the last 50 years, Corky has enjoyed providing pest control services across Southern California. He has devoted his time to not only studying the uniqueness of the climate, vegetation and terrain, but to educating about the insect world, through industry publications, making Mr. Mizer a well-known author of the pest control industry.
Corky's passion for pest control ignites that same passion in his associates and technicians. With a full-time Plant Pathologist on staff you know that the company is serious about lasting solutions to customers' pest control problems. We also employ professional technicians who are educated in the pest control industry with some holding Bachelors of Science degrees and Doctorates. Corky's staff, including the operators, go through rigorous on-going training, so they can be prepared to help with pest problems quickly and inexpensively.
Corky's staff are always ready to serve and help customers solve problems. They're not only available to provide immediate solutions but they'll plan a customized program to fit each customer's unique situation and property.
Corky's is proud of our achievements and plans to continue keeping satisfied customers for many years to come.