Wood Destroying Organisms.
Schedule a Site Inspection
Tell us about what is bugging you?

Corkys Termite Fumigation
Fumigations Are 100% Effective
As opposed to other termite treatment methods, a termite fumigation is the guaranteed way to rid your home of all termites."
While other methods get rid of some termites, termite fumigation is the only treatment which permeates the entire structure, ensuring the eradicaton of termites.
A termite inspection is required before any work can begin.
How Much Does It Cost?
The price of a fumigation depends on the size of the home. Using satellite technology, Corky's is able to determine the size of the home and quote you a price the same day you call us. We guarantee the price we quote is the price you'll pay. Before any work begins, however, a physical inspection of the home must be done.
How long does it take?
Termite fumigation takes approximately 3 days while a tent is placed over your home.
Do I have to move out?
Yes, all people and pets must vacate the premises.
How long is the guarantee?
Corky's guarantees your house to remain free of drywood termites for up to 4 years. Our 4 year guarantee does not apply to commercial buildings or escrow transactions.
After a fumigation how can I continue to product my home?
Corky's Termite Protection plan monitors your property year-round. Inspections for both drywood and subterranean termite infestations are performed every two years. All our termite control and work is guaranteed by us for as long as you stay on the service.
To get started, we perform a full inspection to verify conditions are conducive to starting the program. Once verified, here's how we keep you protected:
A certified specialist will look for signs of termites while performing your regular pest service. If any infestation is discovered, your technician will notify the office and we will send out a certified inspector. All recommended procedures are automatically covered under this plan.
We'll perform a full photo inspection every two years to monitor conditions on your property. If an infestation is ever discovered, we'll get rid of it promptly.
CORKY'S WILL BEAT ANY TERMITE ​FUMIGATION PRICE!
If you believe you will need assistance preparing for this fumigation,
we have people to help you prepare for a low cost.
Contact our office at 1-800-325-7805
Rest Easy Knowing You'll Get The Lowest Fumigation Price Plus a Four-Year Guarantee!
*Inquiry for details and restriction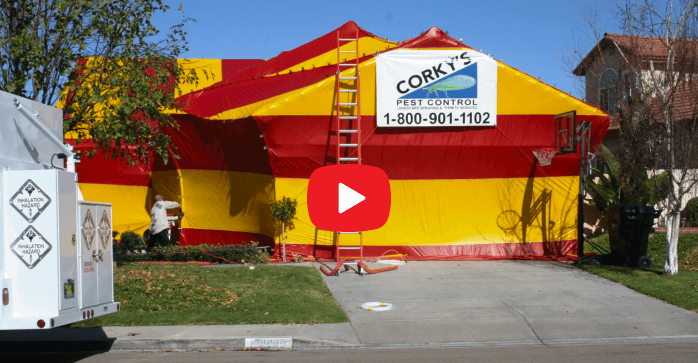 Termite Fumigation
Fumigation or tenting is a proven method to eliminate termites.