Well, we have it from the experts that even a volcanic eruption can't discourage gophers from their daily tasks of digging h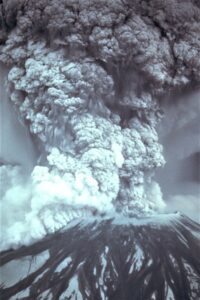 oles and burrow systems and eating whatever vegetation they fancy.
The May 8th, 1980 eruption of Mount St. Helens ripped the top off the volcano, obliterated 235 square miles of forests, kill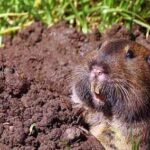 ed 57 people,  and blanketed much of the      Pacific   Northwest in ash. What it didn't do was take out the resident gopher population.   Pocket gophers survived underground, under the volcanic deposits, and later went on to burrow in the old forest soil.
Suddenly, Pocket Gophers became ECO Heroes, helping plants thrive again by turning up soil as they were feeding, encouraging plants to start growing, and restoring the mountain wilderness.
As much as we would like to honor these little burrowing machines, their hole digging and burrowing antics, plus voracious appetites, wreck-havoc, in our lush lawns and beautiful gardens, not to mention the ankle twisting hazards they create and their ability to destroy whole farms.
Needless-to-say, gophers are not welcome here!
Can yards and gardens be successfully saved from these hungry, destructive, digging machines?  The answer is, yes! You can try doing it yourself or you can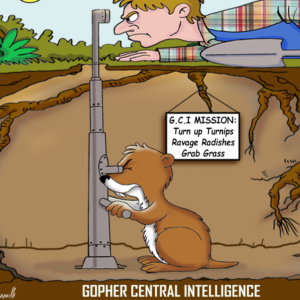 get it done hassle free by a professional.  Do-it-yourself Gopher control is a time consuming and often expensive undertaking when homeowners, property managers or anyone else, tries to face off with these subterranean nightmares.  Home remedies; smelly repellents, noise makers, Juicy Fruit gum, gas and smoke bombs, traps and the ever unsuccessful water in the hole method are mostly ineffective, take time and persistence, can pose a danger to the gopher hunter and with the price of water these days, can break the bank.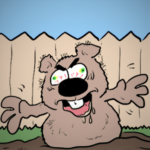 Even when you think you have gotten rid of gophers, and discouraged their return, one will pop up as though there has been a miraculous resurrection, but it is no such thing, just a neighborhood gopher looking for new digs and finding an empty burrow in your yard.  He's hit the jack pot!
Persistence and Professionals are the two P's of gopher control. When you hire professionals, you save a lot of your precious, personal time and they are equipped and committed to taking on gophers with expertise and total diligence.  Gopher Control demands consistent, persistent, and timely attention and nothing less than total commitment.
Even professionals will differ in their methods of control. In Southern California, Corky's Pest Control is a major player in the Gopher Control Business.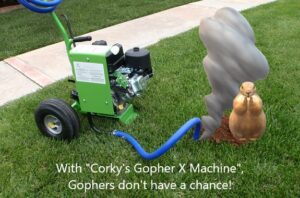 Using their secret weapon, Corky's Gopher X Machine, in combination with a proven repellent and a fantastically efficient service schedule, gophers don't have a chance.