Cockroaches are one of the dirtiest and hardiest of natures' creations. Their saliva, droppings and decomposing bodies contain allergen proteins known to trigger asthma and allergy symptoms, especially in children. In addition to exacerbating skin and respiratory allergy symptoms, cockroaches also spread nearly 33 kinds of bacteria including E. coli and Salmonella, six parasitic worms and more than seven other types of human pathogens.
The fact is, that Cockroaches are a very interesting and resilient pest that exhibits some very odd behavior and survival tactics and are among the most successful animals on earth. Roaches made their first appearance over 280 million years ago. During the Crustaceous period (100 million years ago, during the age of dinosaurs), their ability to adapt enabled them to survive the mass extinction events that wiped out the dinosaurs.
Cockroaches have evolved from ancient predatory creatures, actively hunting and capturing prey, into omnivorous nocturnal scavengers, eating whatever is available.  They are the ultimate survivalists, even eating glue, soap or leather to stay alive.
It has been said that the Cockroach will be among the only survivors of a massive nuclear event.  Man will be destroyed but the Cockroach will continue adapting and surviving.  How is this possible? They are built to survive. Although a cockroach within the blast radius of any nuclear explosion would be incinerated just like anything else, roaches would be better able to cope with the fallout as they are able to tolerate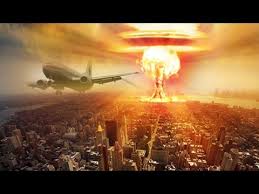 much higher levels of radiation than humans.
It is the Cockroaches' skin (exoskeleton) shedding cycles that gives it a greater tolerance for radiation exposure. When cells divide, they are at their most vulnerable to radiation. While humans have cells that are dividing constantly, roaches molt about once a week at most, which makes radiation's window of opportunity to attack cells much smaller. This ability to withstand radiation isn't unique in the insect world. Other insects, such as fruit flies or Habrobracun wasps, can withstand much higher levels of radiation.
Even knowing that roaches may outlive us in the end, it is imperative that they be eradicated from our living spaces to insure our health and safety. The c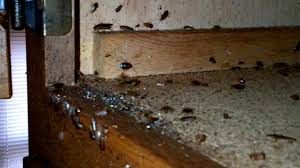 ockroaches' ability to adapt (chemical avoidance and tolerance to old and new chemicals alike) and its rapid reproductive ability, makes controlling and eliminating infestations extremely difficult.
To get rid of existing Cockroaches or prevent future infestations before they start, experts suggest keeping food sealed and stored properly, particularly in the kitchen, which should be cleaned daily to prevent grease, crumbs and trash from building up. Garbage should be disposed of regularly and stored in sealed containers. Get rid of clutter.  Homeowners should find and seal all cracks and holes in homes, including entry points for utilities and pipes, as these can serve as entranceways for the pest. In addition, basements and crawl spaces should be kept well ventilated and dry. Check bags and boxes, brought into the home from stores and warehouses, for evidence of roaches.  Finally, vacuum, vacuum, vacuum!  Think of your vacuu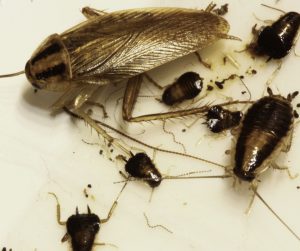 m as the ultimate weapon against the mighty Cockroach.
Roach Facts: Warning, Not for the faint of heart!
A cockroach can live for a week without its head. Due to their open circulatory system, and the fact that they breathe through little holes in each of their body segments, they are not dependent on the mouth or head to breathe. The roach only dies because without a mouth, it can't drink water and dies of thirst.
A cockroach can hold its breath for 40 minutes, and can even survive being submerged under water for half an hour. They hold their breath often to help regulate their loss of water.
Cockroaches can run up to three miles in an hour, which means they can spread germs and bacteria throughout a home very quickly.
Newborn German cockroaches become adults in as little as 36 days. In fact, the German cockroach is the most common of the cockroaches and has been implicated in outbreaks of illness and allergic reactions in many people.
A one-day-old baby cockroach, which is about the size of a speck of dust, can run almost as fast as its parents.
The American cockroach has shown a marked attraction to alcoholic beverages, especially beer. They are most likely attracted by the alcohol mixed with hops and sugar.
The world's largest roach (which lives in South America) is six inches long with a one-foot wingspan. Average cockroaches can vary in size from ½"- 2″ long.
Cockroaches are believed to have originated more than 280 million years ago, in the Carboniferous era.
There are more than 4,000 species of cockroaches worldwide, including the most common species, the German Cockroach, in addition to other common species, the Brownbanded Cockroach and American Cockroach.
Because they are cold-blooded insects, cockroaches can live without food for one month, but will only survive one week without water.
Prehistoric Cockroaches have given rise to lots of other insects.  The Cockroach family tree is extensive and includes: praying mantises, stick bugs, termites, earwigs, lobsters, shrimp, crickets, grasshoppers and more.
If you get hungry, there are edible species that are nutritious and quite tasty when fried, baked or sautéed.  It's Eat-It-Yourself Pest Control. (See Corky's Blog of the same name.)
Take a minute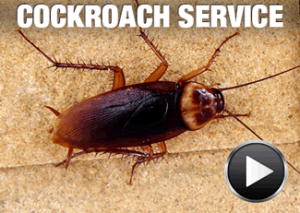 and check out this informative video on how professionals tackle a cockroach infestation. No Stomping Shoes required.
To get expert, professional help, follow this link: https://www.corkyspest.com/cockroaches.html