HELP US HELP YOU SUCCESSFULLY CONTROL WASPS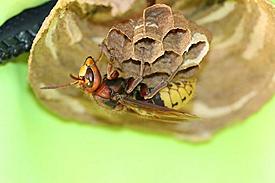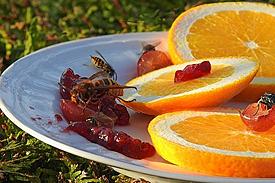 BASIC STEPS TO ENSURE A SUCCESSFUL WASP CONTROL SERVICE.
Wasp proofing structures is necessary to guard against future colonization. Make sure cracks and crevices are caulked and holes in walls and damaged screens are repaired. Deny them access to interior spaces.
Plant or move wasp attracting plants and shrubs away from areas up against the house or other structures. Wasps will frequent the same sweet nectar producing plants as bees.
Hummingbird feeders should be placed away from the house or other structures. Moving hummingbird feeders periodically, can be a useful tactic to create confusion and keep wasps and hornets away from hummingbird feeders.
Keep an eye out for any unusual activity on your property. An excessive amount of wasp activity can mean a hive is being constructed or is already active. Timely attention can head off an ugly situation.
Keep trash cans tightly sealed and trash areas clean of debris.
Keep landscaped areas well maintained. Prune dense shrubbery, remove yard debris, and do not overwater. Move bird baths away from structures.
All of the above recommendations are designed to deny wasps (hornets), food, water and shelter. Without these basic life necessities, these insects will look for better places to live.
Corky's Wasp Control Service was created to control bees that are occupying structures or creating unsafe situations. The number one goal of this service is resident safety.
Corky's Ultimate Pest Control Service, is a year-round treatment program for ants and spiders which also includes control and preventative measures for aphids, whitefly, ticks, mosquitoes and more. Corky's Ultimate Pest Control Service keeps pests controlled in your yard and out of your home. After your initial wasp control service, wasp control can be added to the Ultimate Pest Control Service at no additional charge.