SUBTERRANEAN TERMITE TREATMENT
A long-lasting subterranean termite treatment solution.
CALL 1-800-325-7805 FOR A FREE INSTANT PRICE QUOTE.
THE PRICE WE QUOTE WILL BE THE PRICE YOU RECEIVE!
Subterranean Termite Treatment
Spot treatments are performed where termite activity is discovered.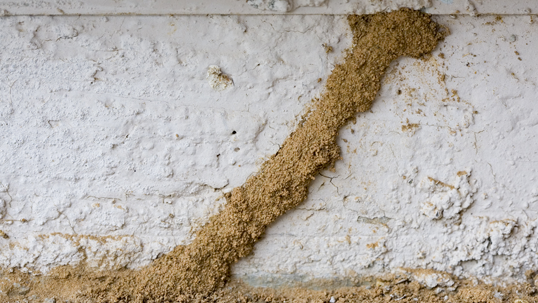 Subterranean Termites
Mud tubes or tunnels are a sign of subterranean termites that cause serious structural damage.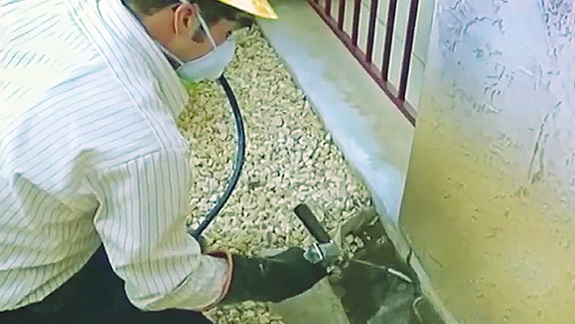 Underground Soil Treatment
Subterranean treatments kill the termites and provide a protective barrier around a structure.
Eliminate subterranean termites and establish a protective barrier around your home!
Subterranean termite treatment is a soil treatment that provides an extremely effective long-lasting solution for the extermination of these termites that come up from the ground.
Subterranean termites are by far the most destructive termite species and should be professionally eliminated. These wood-destroying pests live underground and cause serious damage to structures by attacking their foundations.
HOW CORKY'S SUBTERRANEAN TERMITE TREATMENT SERVICE WORKS
We exterminate subterranean termites by digging a trench around the perimeter of your home, then applying a non-repellent termiticide (Termidor®) into the trench. Whenever a termite touches or ingests Termidor®, it becomes a "carrier," transferring Termidor® to others in the colony, spreading it like a virus. Besides eliminating the entire colony, the application of Termidor ® establishes a protective barrier between these destructive pests and your home.
TERMITE CONTROL
4-YEAR GUARANTEE
If termites re-infest an area that we have previously exterminated, we will re-treat that area, free of charge, for up to four years from the date of our original termite control treatment. Any ancillary expenses will be covered by the homeowner. Termite Control Guarantee is not transferable to a new home owner.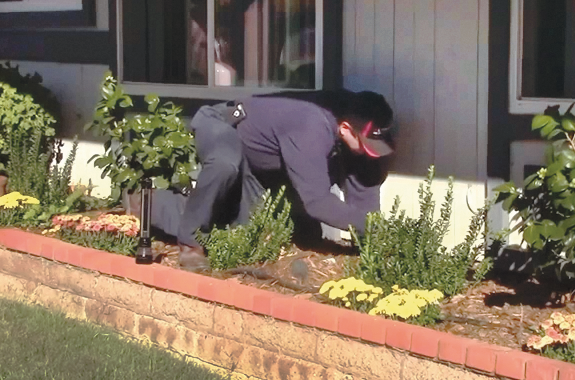 Termite Inspection
Corky's offers termite inspections for both residential and commercial properties.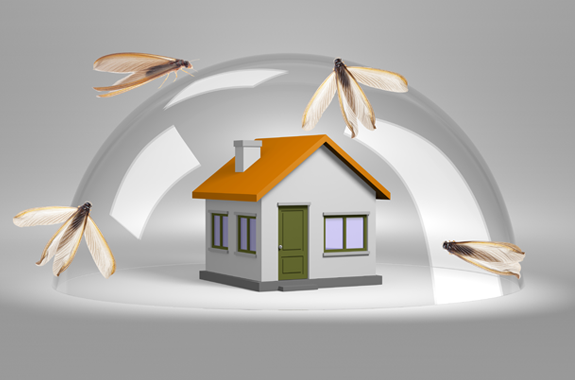 Termite Protection
Defend your home with Corky's year-round protection plan against drywood and subterranean termites.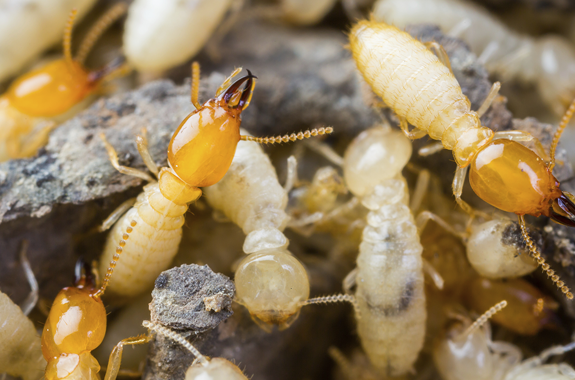 Termite Identification
What does a termite look like?