Subterranean termites are by far the most destructive species and should be professionally eliminated.
These wood destroying pests live underground in colonies sometimes numbering more than a million members.
We eliminate these most destructive pests by trenching around the structures and adminstering Termidor®.  This product adheres to the soil and stays in place for many years as a protective barrier separating termites from your home.
Your foundation, without cracks, is impervious to these termites, so they form mud tubes over the outside of the foundation walls to gain access to the wood structures.
Often holes must be drilled through concrete on driveways to reach underlying subterranean termite colonies.  These holes are effectively repaired, by replacing concrete plugs after treatment is performed.
TERMITE CONTROL FOR UP TO 4-YEAR GUARANTEE
If subterranean termites re-infest an area that we have previously exterminated, we will re-treat that area, free of charge, for up to four years from the date of our original termite control treatment. Any ancillary expenses will be covered by the homeowner. Termite Control Guarantee is not transferable to a new home owner. Our 4 year guarantee does not apply to commercial buildings or escrow transactions.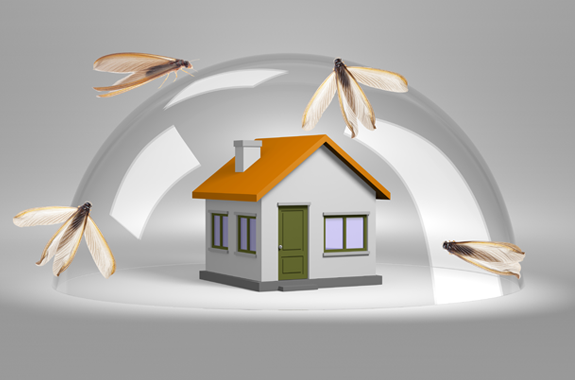 Termite Protection
Defend your home with Corky's year-round protection plan against drywood and subterranean termites.