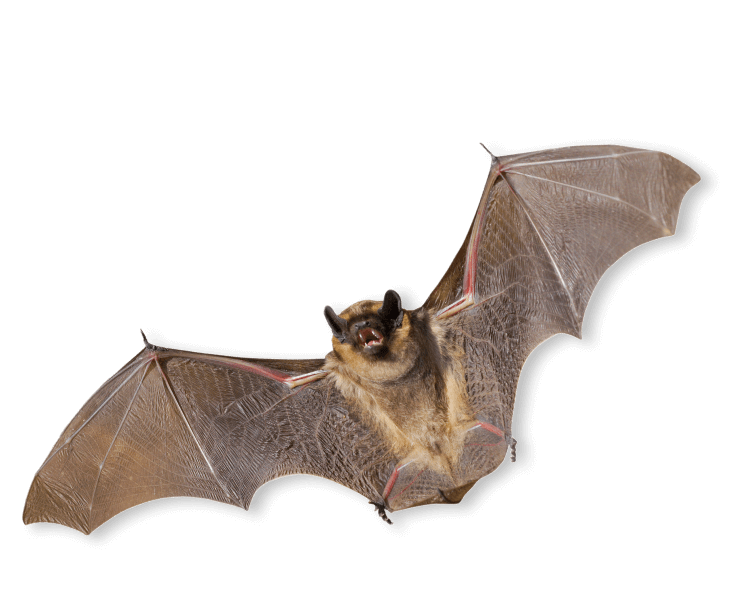 Call Now
800-901-1102

What's a Bat?
Bats are the world's primary predators of flying insect pests.
Bats are the only mammals that fly. They typically roost in caves, mines, crevices, bridges and tree hollows. They are nocturnal and leave their roosts to find water and food. All bats can see but use acoustic orientation called echolocation to locate prey. Although food can be caught directly in their mouth, the vast majority catch insects as they fly, in their wing membranes, then find places to rest and eat. Being mammals, females give birth to live young and produce milk. They nurse their young, called pups, for about 2 weeks. Pups are born blind, without fur and unable to fly. They are raised in nursery colonies. They begin to fly at around 3 weeks. By about 6 or 7 weeks the young are independent.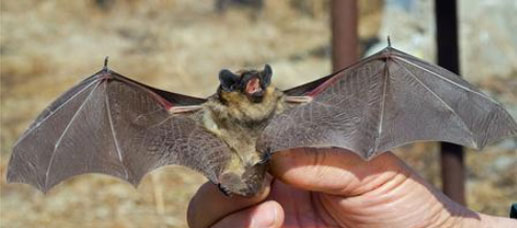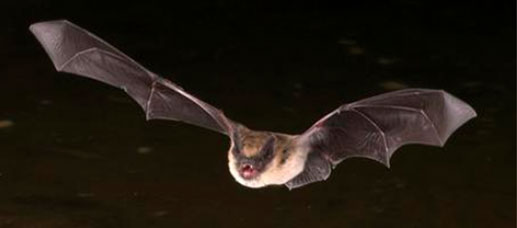 When Bats become a nuisance, our Bat Abatement Service redirects bats away from your home or building and stops them from returning.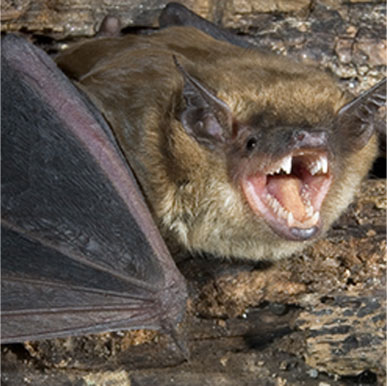 Big Brown Bat
This is a big bat. It's body length averages 4 1/8″ to 5″ with a 14″ wingspan. It has small black ears, glossy light to dark brown body fur on top and paler fur below. They are found across the United States, Canada and South America. Their habitat is usually found in forested regions. They have roosts in tree hollows and under loose bark, in caves, mines, buildings. Big Brown Bats emerge early in the evening to feed in the treetops. Their diet consists of beetles, wasps, ants, flies and other flying insects. This is a fast flying bat with speeds up to 40mph. Migrates south or hibernates in caves, mines or buildings. Doesn't feed in winter, relying on stored fat. Forms nursery colonies of up to 300 individuals. Females bear one or two young in the late spring.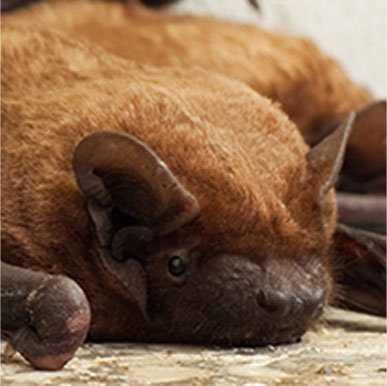 California Myotis
This is a small bat with a body length of 2 7/8″ to 3 3/8″ and a wingspan of 9″. California Myotis have long fur that is light to dark brown with a golden cast on head. Their dark brown or black ears are medium length with dark brown to black face mask, wings and tail membrane. This Western North American bat thrives in desert scrub and semi-arid regions and prefers rocky canyons and roosts under tree bark, bridges, buildings and mineshafts. It's flight is erratic because it makes abrupt mid-flight turns. It starts feeding early in the evening on small flies, moths and other insects. These bats form small nursery colonies and females bear a single young each year.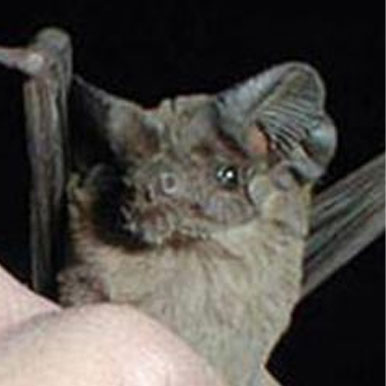 Mexican Free-Tailed Bat
This medium-sized bat has a body length of 3 1/2" to 4 3/8″ and a 12 1/2″ wingspan. It has dark brown or grayish fur on top, paler fur below. The tail is hairless and extends well past the tail membrane. The upper lip is wrinkled. These bats can be found in caves, buildings, culverts and under bridges across the southern U.S. and South America. Mexican free-tailed bats form huge colonies. The largest colony is Bracken Cave in Texas with 30 million bats where tourists gather to watch them emerge. The colonies are a major form of agricultural pest control, consuming literally tons of insects each night. They eat moths, ants, beetles, leafhoppers and other flying insects. Each female bears a single pup in June.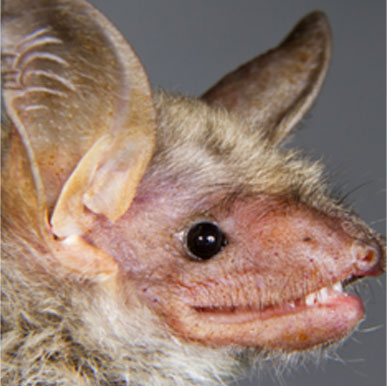 Pallid Bat
This furry, tan colored bat has distinct big pale colored ears. It's a body length is about 4 1/4" to 5 1/8″, with a 15 1/2″ wingspan. You'll find it across much of the American west, up and down the coast from Canada to Mexico. It forms small colonies of about 12 to 100 bats that roost in rock crevices, caves, mine shafts, under bridges, in buildings and tree hollows. Late at night it emerges to feed on crickets, scorpions, beetles, grasshoppers, and various other insects that are primarily on the ground. With its large ears, it can hear the footsteps of insects on the ground, then swoops down to grab them. It's immune to scorpion venom. These bats form nursery colonies and bear one or two pups each year in June.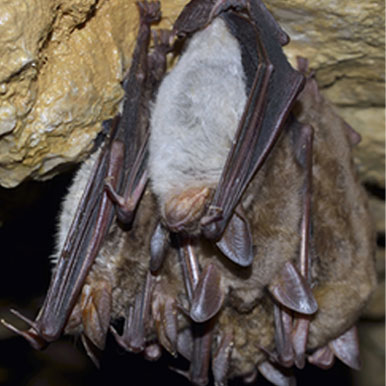 Western Pipistrelle Bat
This is the smallest bat found in the U.S with a body length of 2 3/8″ to 3 3/8″ and a wingspan of 8 1/2″. It's fur is pale yellow to grayish brown with a lighter underside with black wings, face, ears and feet. This bat can be found across much of western U.S. and down thru Mexico. It lives in desert scrub, oak woodlands, river canyons, roosting in rocky outcrops and crevices. This slow eratic flyer starts foraging in the late afternoon on small flies, moths, beetles, leafhoppers, mosquitoes, ants and wasps. It forms nursery colonies and each female bears one or two young in the late spring. In colder climates they will hibernate in caves or mines, or migrate south.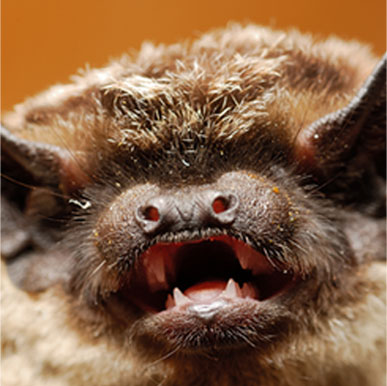 Yuma Myotis Bat
This bat has a body length ranging 3 3/8″ to 3 7/8″ with a wingspan of 9″. The body has short, dull brown fur on top with paler fur below. Yuma Myotis are found across much of the North America in the western United States and western Canada. It roosts by day under building sidings or shingles near lakes, creeks or ponds. It flies low over water to snatch up flying insects such as moths, midges, mosquitoes and termites. Nursery colonies choose caves, mines, buildings or under bridges to inhabit. Each female gives birth to a single pup each year in May or June. Health Concerns
Bats do not attack people. Bats, like other mammals, can be infected with the rabies virus and some of them are. But the vast majority of bats are not infected. However, a bat that can be easily approached by humans is likely to be sick and may bite if handled. Simply do not touch or handle a bat or any other wild animal and there is little chance of being bitten. Teach children to never handle any wild animal. Contact your animal control or a bat rescue organization in your area if you see a hurt or stray bat.